Join us for some exciting and informative content as we celebrate
Black History Month!
Defender BHM Virtual Webinar
February 17th, 4-5 PM:
A conversation with Kristin Henning: Rage of Innocence: How America Criminalizes Black Youth.
Watch the full video from the webinar below: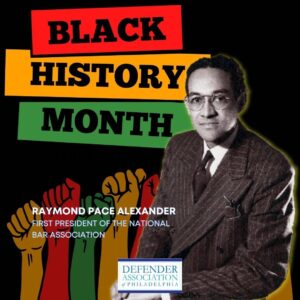 Raymond Pace Alexander was a politician and attorney who dedicated his career to fighting for equal rights. As a lawyer, he had a reputation for representing Black defendants in high-profile cases, including the Trenton Six, where six Black men were accused of Murder in Trenton NJ.
After serving two terms with Philadelphia City Council, Alexander gave up a lucrative law practice in 1958 to become the first Black judge on the Pennsylvania Court of Common Pleas.
He also had a distinguished career as Counselor to the Haitian Embassy in Washington from 1947-1948; as Honorary Consul to the Republic of Haiti in Philadelphia from 1948-1956; and as Chief Counsel for the @NAACP.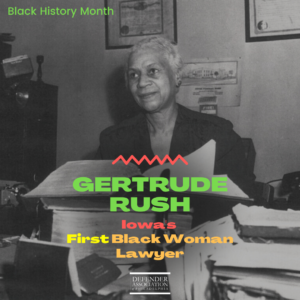 Gertrude Rush

was the first Black woman to practice law in the state of Iowa, and the only woman co-founder of the National Bar Association.
After finishing her undergraduate degree in 1914, Rush studied law under her husband, James B. Rush. She passed the Iowa Bar Exam in 1918. After being denied entry into the American Bar Association, she and four other attorneys formed the National Bar Association, an association for Black lawyers in 1925.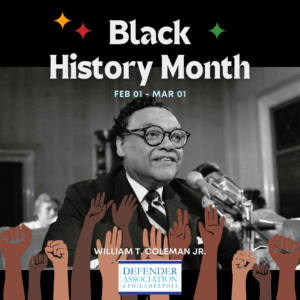 William T. Coleman, Jr., one of the most successful lawyers in the country, represented the Commonwealth of Pennsylvania in litigation to remove racial restrictions from Girard College and was part of the team that worked for Thurgood Marshall in Brown v. Board of Education.
He was also the fourth U.S. Secretary of Transportation during the administration of President Gerald Ford. He was Chairman of the Board of the NAACP Legal Defense and Educational Fund and has served on the boards of numerous corporations, including IBM, Chase Manhattan Bank, PepsiCo, and Pan American World Airways Inc, and INA Corporation.
Coleman graduated suma cum laude from the University of Pennsylvania in 1941 and received his LL.B. degree from Harvard magna cum laude in 1946.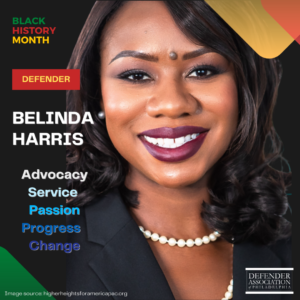 Meet Emerge Nevada Alumnae Belinda Harris, 2020 candidate for North Las Vegas Township, Justice Court Department 3!
After graduating from Howard University, Belinda worked for the Clark County School District in a role where she ensured children with disabilities received the services and education to which they were entitled and deserved.
Belinda joined the Defender Association of Philadelphia in 2006 as an assistant defender before moving back to Nevada to work in the Clark County Public Defender's Office and she returned to North Las Vegas, to the same community where she grew up.
Harris is a Chief Deputy Public Defender for Clark County, where she continues to to protect the constitution and ensure the rights of all individuals are protected!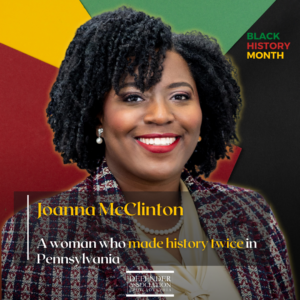 After leaving the Defender Association in 2013, Rep. Joanna McClinton, a lifelong Southwest Philadelphia native, combined her passion for the community and the law by becoming chief counsel to state Sen. Anthony Hardy Williams. She worked behind the scenes, developing policy and legislation; organizing expungement fairs and public policy forums; and assisting constituents.
In August 2015, she won a special election to become the State House Representative for PA's 191st District. Since then, she's made history twice in Pennsylvania! In 2018, she became the first woman and first African American to be elected as House Democratic Caucus Chair. Then, in 2020, she was the first woman elected House Democratic Leader in the 244-year history of the oldest legislative body in the country.
After graduating from LaSalle University, she enrolled at Villanova University School of Law where she used her legal training to serve the public. She was an intern at Regional Housing Legal Services, the Philadelphia District Attorney's Office and the Defender Association of Philadelphia.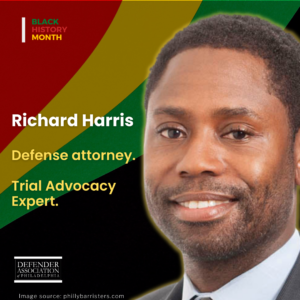 Richard Harris worked with #PhillyDefenders from 1998-2001.
After leaving the Defender Association, he defended the four initial defendants in the highly-publicized Lex Street Massacre case in Philadelphia. His defense of ultimately led to all charges being dropped for all four clients.
Since then, Harris has become an expert and thought leader in many areas of the law, including trial advocacy and litigation.
He's still active in the Philadelphia community, serving on the Board of Trustees for Southwest Leadership Academy Charter School, Enon Coulter Community Development Corporation and the Arden Theatre.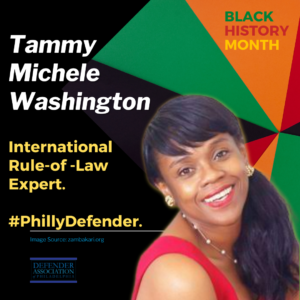 Meet Tammy Michele Washington, an international powerhouse of a lawyer working to improve living conditions for people across the globe!
After graduating from Howard University Law School, Tammy worked with the Defender Association from 1992-1997. After leaving the Defender, she set up her own international legal consultant practice. From there, she has had an amazing career as an anti-corruption and rule-of-law expert who has led human rights, democratic governance, and rule-of-law projects for the United Nations Development Programme throughout Eastern and Southern Africa.
Tammy Michele Washington is an active member of the American Bar Association, where she serves on several committees, including the Africa Committee, International Human Rights Committee, and International Criminal Law Committee.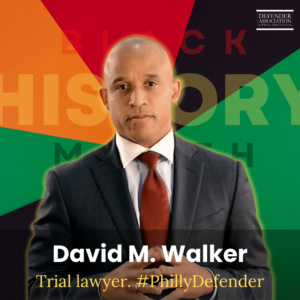 David M. Walker graduated from Stanford and Stanford Law School. During law school, he was a staff editor for the Stanford Law and Policy Review. he interned for the Homicide Unit of the Santa Clara County's Public Defender's Office. He also worked at one of the nation's premiere plaintiff litigation firms.
After graduating, he clerked for the Hon. Gary L. Lancaster, who sat on the Federal Bench in the Western District of Pennsylvania.
Walker joined the Defender Association as a staff attorney in 2001. By the time he left in 2005, he was working in the Major Trial Division, handling only the most serious felony offenses.
He founded his firm, The Law Offices of David M. Walker after leaving the Defender, and he continues to provide legal counsel to the accused in the Philadelphia area.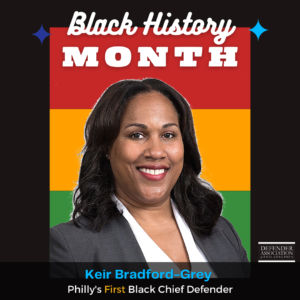 Keir Bradford-Grey started her legal career in 1999 as an assistant public defender at the Defender Association of Philadelphia. In 2007, she went on to the Delaware Federal Defenders Office before being named Chief Defender for Montgomery County (PA) in 2012.
In 2015, she returned to the Defender Association, where she served as Philly's first Black Chief Defender until 2021. During that time, she exposed the biases in our justice system and helped to change the conversation around criminal justice and public safety. She also spearheaded numerous initiatives designed to incorporate community members into the criminal justice process to connect clients to critically-needed support and services BEFORE their court date.
Bradford-Grey continues to dedicate her career to correcting the racial and financial inequities in our justice system.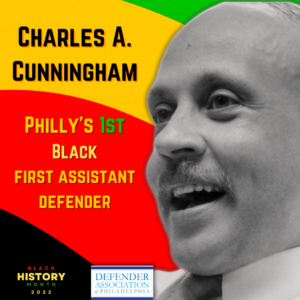 Prior to joining the Defender Association in 1984, Charles A. Cunningham spent four years in private practice after clerking for the Honorable Harvey N. Schmidt. At the Defender, he was a senior trial attorney and instructor in our in-house trial advocacy training program from 1984 to 1990. In 1991, he became the Defender's FIRST Black First Assistant Defender, a position he held until 2015.
Mr. Cunningham has served on the Board of the Pennsylvania Association of Criminal Defense Lawyers, Capital Resource Center on Death Penalty, Standards for Appointed Counsel and the Criminal Justice Section Committee on Performance. He has also been a member of the Mayor's Criminal Justice Coordinating Committee and served on the Governor's Criminal Justice Initiative Committee.
Mr. Cunningham served as an instructor for the National Institute for Trial Advocacy and has been a Trial Advocacy Instructor at Harvard University, Benjamin Cardozo School of Law and Temple University School of Law. Mr. Cunningham also served as an Adjunct Professor 2015 to 2017 at Temple Law School.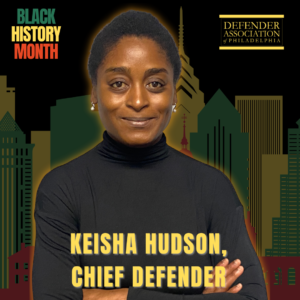 Keisha Hudson has a been a public defender for nearly eighteen years as a public defender. She started her career with the Defender Association of Philadelphia, then went on to be a capital appellate defender with the Federal Defender-Eastern District of Pennsylvania (Capital Habeas Unit) representing people on death row in their state post-conviction and federal habeas appeals.
In 2016, she left the Federal Defender to become Montgomery County (PA)'s Deputy Chief Defender, where she focused on building and strengthening advocacy in the courtroom, and addressing systemic issues with policing, pretrial detention, sentencing, and probation.
In 2020, Keisha worked with The Justice Collaborative and The Appeal, developing and leading advocacy and media campaigns on criminal justice issues- specifically campaigns aimed at looking at creative and successful community alternatives that truly create public safety. She came back to the Defender Association at the end of 2020, and we're looking forward to the history she'll make!