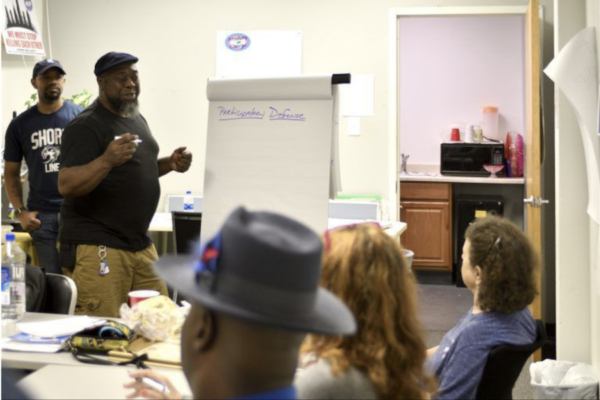 Steve Austin works with a Defender Association of Philadelphia program to advise defendants and others about tapping the resources available to them. — Bastiaan Slabbers for Keystone Crossroads.
When Zakiyyah Salahuddin found out her teenage son was arrested for allegedly carrying a gun, she thought it was serious.
After she finally spoke with her 13-year-old son, Zaheim, and discovered the gun was fake and purchased at a local store, Salahuddin knew she had to fight to defend him.
"I couldn't believe that he was arrested for a $3.50 toy — because it was a toy," Salahuddin said.
Salahuddin had no idea how to navigate the juvenile justice system while her son spent three nights in the Juvenile Justice Center in August. She turned to family, who told her about a new program called participatory defense running out of the offices of Mothers in Charge in North Philadelphia and other hubs in the city.
Although skeptical at first, Salahuddin came to see the hub as a second family that helped her and her son understand his case, how to adequately prepare for it, find character witnesses to support Zaheim, and much more.
Salahuddin's son's case was well covered in the media this summer, and the charges against Zaheim were dropped and expunged. On Monday, Salahuddin testified along with other advocates and volunteers about the program during a Special Committee on Criminal Justice Reform at City Hall.
Councilman Curtis Jones, a co-chair of the committee, said the testimony will help determine whether the participatory defense programs ought to receive funding in the next budget.
Jones said he intended to take a firsthand look at the hubs to better understand how they operate.
"Each of us [on City Council] is not an expert on everything, so some of us have to take a deeper dive into a subject matter to be able to be authentic in our understanding of an issue to say, 'Here's why we've got to put money where our mouth is,'" Jones said.
Keir Bradford-Grey, a committee co-chair and chief defender of the Defender Association of Philadelphia, said the program cuts costs, promotes a more equitable criminal justice system and increases public safety.
"This is a viable resource to real criminal justice reform," she said.
Participatory defense is a community-based approach to criminal justice reform for people charged with crimes. The hubs educate defendants about the facts of their cases and helps them tap into community resources for assistance.